Automatic
Stamp Making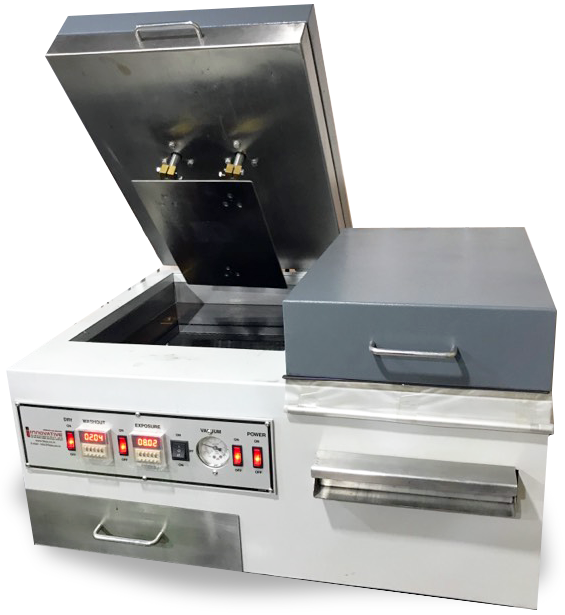 Models : @A4-FL / @A3-FL
Plate Making : for Photopolymer Stamp
Exposure + Washout + Drying + Treatment Units 4 in 1
Our unique product is designed to create the perfect customized stamps to accommodate all the needs of your stamp manufacturing process. Our Automatic Stamp Making Machines and EZ Series Rubber Stamp Making Machines are an all-in-one solution that enables ease of producing a wide variety of stamps in a reliable and cost-effective manner. Our revolutionary, high precision and long life stamp making machines are manufactured using materials that are excellent in quality and can withstand wear and tear. They are bound to transition your work environment, delivering suitable and effective stamp making processes.
Designed for photopolymer stamp making, our high quality stamp making machines are very well designed and precision engineered to deliver the best results which can be used to make stamps with polymer plate and polymer liquid. The making of polymer stamps couldn't be an easier procedure than with these photopolymer rubber stamp making machines. All our machines and equipment are modified and customized as per the needs and specifications of individual customers.
Our wide range of A4 FL & A3FL Stamp Making Machines and EZ Series Rubber Stamp Making Machines are always in demand amongst the clients. We ensure that our photopolymer stamp making processes are at par with the industry standards and using our highly durable and tough machines cake walk. Not only are these machines efficient in their functions but they also come at extremely genuine and reasonable prices.
All our products are designed using a blend of breakthrough innovation, ideas and technology. Our Automatic Stamp Making Machines have brought novelty and innovation in the market and the demand for them says it all! Since the inception, our products are creating ripples in flexo printing and we are utmost happy to be able to fulfill our commitment to offer the most futuristic machines to our customers.

Back Exposure
Expose UV light from the back side of
Photopolymer to make floor first.
---

Contact of Negative film
Peel-off protective film. Contact the emulsion side of
negative onto the surface of Photopolymer
---

Main Exposure Expose
UV light through the negative.
---

Wash-out
Remove the negative, and process the plate in Flate
Photopolymer washout unit.
---

Drying
After wiping off the surface moisture by sponge roll, dry
in a hot air dryer © 60°
---

Post-exposure
Expose UVA light again to complete photo-curing.
---

After-treatment
Expose UVC Germicide lamp as light finishing in order
to remove surface stickiness.

Contact of Negative film
Peel-off protective film and place negative film on
undeveloped plate. Use negative having optical density
of not less than 3.0
---

Exposure
Expose plate, through negative film, to UVA light. Determine the
correct exposure time using a 21 step grey scale.
Follow the Photopolymer plate supplier .
---
Wash-out
Remove negative film & Wash exposed plate with water. Time
depends on plate thickness. Follow the Plate Supplier
TIPS. Rinse the plate with fresh water.
---

Drying
Dry the plate in a hot-air dryer after taking-off the surface water
with a sponge roll. Drying time is different due to the
type of plate. Follow the TIPS FOR Photopolymer Plate'
---

Post exposure
Expose the developed plate to UVA light again to get stability.
Post exposure time should be the same or longer than
the main exposure time.
---