Innovative Flexotech is a prominent global manufacturer and exporter of a variety of machines used in the printing industries. Right from A4 FL & A3FL Stamp Making Machine to EZ Series Rubber Stamp Making Machine machines, we are a one-stop shop for all your quality printing needs. Since our inception, we have been able to carve a niche for ourselves in this industry in a short span of time. The credit of our success mainly goes to the excellence and the perfection we deliver in our products and services.
Our wide range of products facilitate a deep and long lasting association with various industries including printing and packaging, retail and automobiles. We are proud to have a fairly large - existing and growing clientele from various industries. In addition to that, we are also proud to be a vital part of the manufacturing processes of these clients and extremely happy to be able to meet the divergent needs of our clients with great ease and expertise.
Why choose us?
Innovations in processes, creativity in thinking as well as the design and development process and in-depth industry knowledge are the key elements which drive us to successful operations. All this has gradually resulted in a brand which is trusted by lakhs of people today. So far, we have been able to provide our clients with the best stamp making machines with unmatched quality and we will continue to win their faith through our products.
Our Expertise
We are one of the leading manufacturers and suppliers of all types of flexo products and machines including A4 FL & A3FL Stamp Making Machines and EZ Series Rubber Stamp Making Machines. We are an identifiable name in the marketplace involved in offering Photopolymer Rubber Stamp Making Machines and Rubber Stamp Making Machines.
We manufacture all our machines at par with the international design and development standards and all our machines are quality tested. The company is highly focused on manufacturing the best stamp making machines and breakthrough products which are largely focused on innovation and ease of operation. Hence, our flexo products and automatic stamp making machines are demanded all over the world by printing and packaging industries and other partner networks.
Infrastructure
Besides a structured and evolutionary approach, we leverage state of the art infrastructure to develop technologically advanced products. Our team is highly professional/proficient and very well experienced team when it comes to product development. We exploit the latest technologies to the fullest and the result is the best quality and cost effective machines which will never disappoint you for years to come.
Quality Policy
Innovative Flexotech Pvt Ltd is an ISO 9001:2015 certified company which believes in strategic planning and follows strict quality guidelines. We understand that having a clearly defined and well thought out strategy for quality control leads to productive outcomes and efficient and highly durable products. Stringent quality control is implemented right from the raw material to the final finished product. All our raw materials are scrupulously inspected and tested against relevant quality guidelines and we follow these processes during the entire manufacturing, testing and setting of the final products. The end results are not just happy customers but proven and successful machines designed with a simple, transparent and streamlined approach. Delivering precise and concrete products since almost last two decades has won us the customer trust. We deliver to you the finest automatic stamp making machines and rubber stamp making machines which create the right environment for all your printing processes and flexo printing.
About Founder
Mr. Alpesh Thakar
A man who excels in innovation! Steadfast focus and charismatic leadership are the foundations of Innovative Flexotech Industries . The unmistakable vision and influence that the founder Mr. Alpesh Thakar brings to the organisation has made a huge impact on the Flexo industry. As a true visionary, he has not only established the company and made it grow by leaps and bounds, he has also set new benchmarks for everyone in this industry. He, along with his extremely qualified team have made extraordinary contributions to this industry. All the painstaking efforts taken by a very skilled man to bring about a revolution in this industry is a task or we can say "mission" worth appreciating.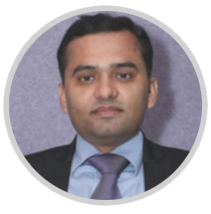 Our Mission
At Innovative FlexoTech, we aspire to be recognized as leaders in technology who are not just change oriented but also proactive in adopting and initiating new technologies bringing uniqueness to the flexo printing marketplace. Along with the team of skilful & well-qualified professionals, the mission of Innovative Flexotech Pvt Ltd is to achieve complete customer satisfaction and happiness by offering the best in class and high precision products.
our Vision
We believe in bringing innovation and excellence to you through simplicity, not complexity. Our vision is to make significant contribution to the industry that is truly important and meaningful to the customers. We wish to empower clients through our rich entrepreneurial skills and ethics.
Above all, we have always stood strong on company values and ethical business practices this has enabled us to set benchmarks across the globe.